The sheer volume of metrics and data available allows you to track almost everything our business does in a given time. 
But monitoring all those numbers can be overwhelming. You need a way of connecting your campaign and sales data. So you can track your entire customer lifecycle and determine which platforms and channels are delivering the most value. 
Closed loop analytics makes this possible. 
Learn how you can implement closed loop analytics into your organization. Your reward will be more educated correlations and insights about your business.
What are closed loop analytics?
Closed loop analytics, aka closed-loop marketing, is the business process of sharing information between marketing and sales teams to improve results. With closed loop analytics, your marketing team can attribute which marketing campaigns lead to Sales and revenue generated from them. 
With closed loop reporting, you are "closing the loop" between the data collected by marketing from sources like Google Analytics (which reports on customer behavior) and the data collected by your sales team from a CRM (which reports on customer purchases, Average Order Value, sales call details, etc.).
The power of closed loop reporting
Historically, marketers have dealt primarily with top-of-the-funnel lead generation tactics and analytics. Their visibility usually ends at website engagement and Google Analytics – they can't see which assets on their website or social media profiles contributed to sales. 
While salespeople have dealt with the lead-to-customer transition and metrics. Because they lack marketing visibility, every lead at the end of the customer journey looks the same. They can't report on what led them to conversion at the beginning of the funnel.  
With closed loop analytics, salespeople and marketers get the bigger picture. 
Marketers can measure the fruits of their labor through the entire customer lifecycle. For example, they can accurately report on the ROI of an ad, video, or blog. On the other end, salespeople can feedback where the majority of leads are coming from and the actions that led them to conversion. 
This allows your marketing and sales teams to collaborate, draw insights, and make better decisions on what drives the greatest ROI for the business. 
Ultimately, closed loop analytics help companies transform (and track) anonymous web visitors into leads who can then be converted into customers. It also allows us to see what channels and tactics are creating leads, conversions, and sales.
7 marketing metrics to measure
In practice, closed loop analytics consists of comparing data between two or more analytics tools, such as Google Analytics and a CRM, to get a full view of the customer lifecycle. Let's take a look at the metrics you should be tracking to do this effectively. 
Overall traffic: how many people visited your site in total
Channel-specific traffic: how many people enter your site through a particular channel
Total conversions: how many visitors convert to customers
Bounce rate: the average number of visitors who left your site
New vs. returning visitors: how many repeat visitors you are attracting 
Social comments: how many people are taking the time to comment on your post
Content shares: how many times your content is being shared
For metrics specific to email marketing, check out HubSpot's guide. Also, discover the top sales KPIs you need to start monitoring to improve your sales growth. 
Some platforms enable audience-tracking tools and CRMs to work together. However, since sales and marketing have historically been separate departments and functions within a company, many businesses are using platforms that don't talk to each other. The good news: we can still work with that. 
You can implement closed loop analytics without upending the company processes by implementing all new software. Sure, it's going to take a little more effort on your part to analyze metrics in two different places, but it's possible. 
Implementing closed loop marketing in your existing business process
A successful sale usually has four stages:
Most marketing tools track your customers through stages one and two. Some will bring it all the way through stage three but few will track through stage four. That's because leads are typically turned over to the sales team and taken away from marketing at this point. 
So how can we track all four stages? Let's go stage-by-stage:
1. Visitor arrives at your website
Even the most simple audience-tracking tools will track the source of a visitor when they land on your website. Whether your visitors are coming from organic results, PPC, social media, email marketing or any of your other marketing tactics, it's important to understand where your visitors are coming from first and foremost.
Here is a pretty basic sample report pulled from Google Analytics showing the sources of this website's visitors. Notice how the majority of visits are direct (or there's no known source) followed by organic search.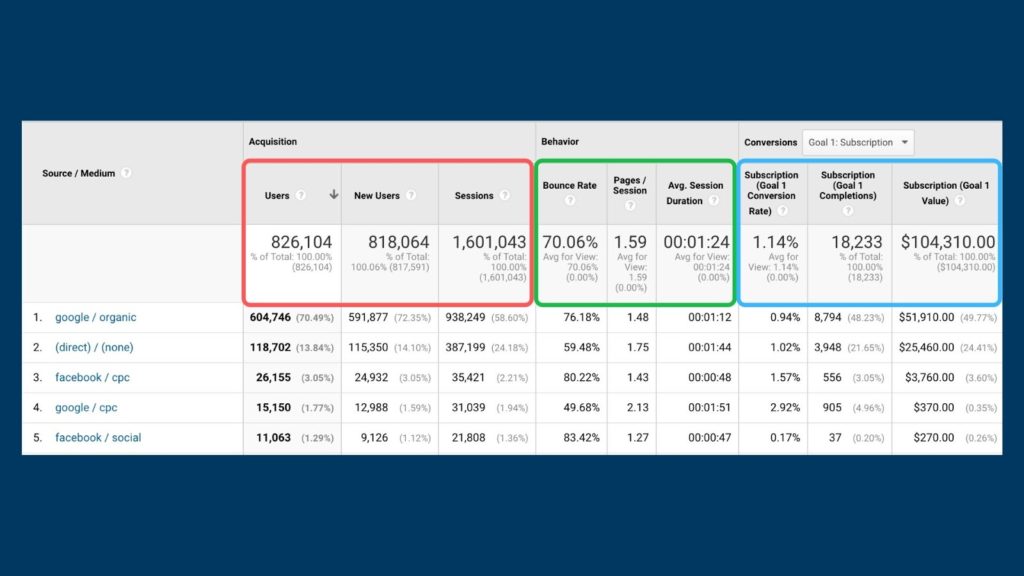 Regardless of where your traffic is coming from, understanding your sources is the first step in determining what efforts are most effective in bringing in new customers.
2. Visitor browses your website
Once you've captured your website visitors, you can start tracking additional information about them and how they navigate your website. Information such as:
What pages they visit

In what order they visit those pages

How long they stay on each page
Ideally, you would be able to track this information for each individual user. But if your audience-tracking software provides this information in aggregate (as Google Analytics does), that's a good starting place too. 
Here is a sample of how Google Analytics provides page view information:
Pageview data will help you determine what content is valuable to your visitors and how they are engaging with the content on your website.
3. Visitor converts to a lead by filling out a form
Most simple audience-tracking software does not, by design, show you which visitors on your site convert by filling out a form. Instead, these people will be converted to leads and sent to a salesperson by email and/or entered into the sales CRM. 
Most companies stop their marketing efforts here as the leads are turned over to salespeople for nurturing. However, when implementing closed loop reporting, you want to continue your tracking through this stage and the next to get a complete picture of the customer journey. 
Although simple audience-tracking software isn't set up to track these conversions, there are a few options for you to capture and analyze information on visitors who become leads:
Implement software that tracks form conversions, like

Google Tag Manager

,

HubSpot

or

Formisimo

. (Struggling to get conversions from your forms? Read:

How to Get Your Contact Form to Convert Visitors

). 

Customize your current software to track form conversions: many audience-tracking platforms allow you to create a way to track conversions. For example, if you are using Google Analytics, you can

set up a Goal

to track conversions in addition to all of your other metrics.

Track them in the sales CRM: one way that many salespeople receive leads is through visitors on the website converting by filling out a form. When this happens, the salesperson will likely get an email with information about that lead and manually enter it into the CRM, or it will be automatically entered into the CRM.



4. Lead becomes a customer
Marketing's job usually ends once the lead enters the CRM and sales picks it up from there. But with closed loop analytics, marketing continues to track the lead through to becoming a customer (or a lost deal) to determine which of their efforts result in conversions and which don't. 
Truthfully, you need software that tracks the actions of individual users to understand which tactics lead to sales and which don't. Without it, this task is very difficult. A platform like HubSpot, for example, integrates with your CRM and uses tracking cookies to deliver individual insights about each lead. 
The benefits of closed loop marketing
Closed loop helps the entire company determine the effectiveness of their customer acquisition strategies. 
This is something businesses are traditionally bad at understanding. Only 21% of B2B marketers are successful at tracking ROI, according to The Content Marketing Institute. Shifting to closed loop reporting is a huge step in solving that challenge. 
As well as better understanding your customer metrics, closed loop reporting also enables marketing and sales teams to collaborate better. This alignment can lead to 38% higher sales win rates, reports Marketo. 
Closed loop analytics FAQs
What is closed loop measurement?
Closed loop measurement is, also known as online-to-offline measurement, is the process of monitoring customer behavior across online and offline touchpoints to inform your product, marketing, and sales team to make better business decisions and create content that encourages customers to purchase a product or service.
What is closed loop tracking?
In practice, closed-loop analytics consists of comparing data between two or more analytics tools. As you probably know, marketers typically track their campaigns using an audience-tracking tool such as Google Analytics. Likewise, the sales team usually tracks their prospects and leads using a CRM platform.
Whether your company measures using closed loop analytics or not, choosing the correct KPIs to measure is crucial to ensuring that your efforts are targeted towards your overall business goals. 
Not sure which KPIs to track? Check out our free eBook: The Beginner's Guide to Choosing the Right Marketing KPIs for Your Business.